Products / Automatic Wire Fencing Machine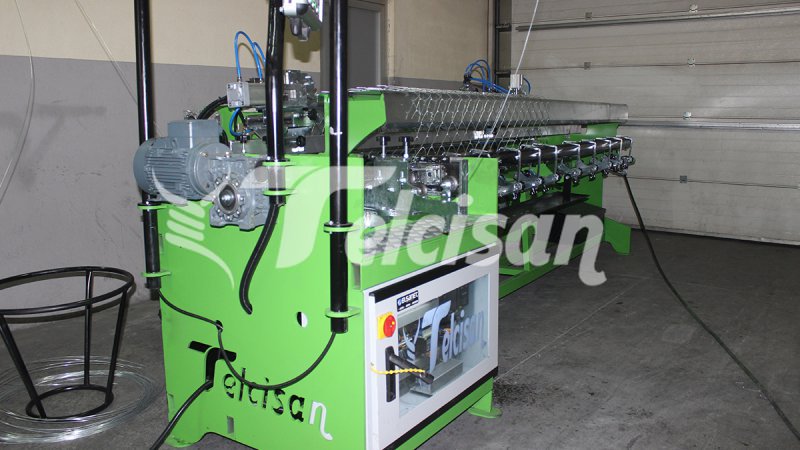 Machine Type
(TLS-600 )
Weaving width
20 – 620 cm
Wire mesh diameter (GALVANIZED)
1.8 – 3.2 mm
Wire mesh diameter (PVS)
2.9 – 4.5 mm
Opening intervals
40x40 – 85x85 mm
Controling system
PLC
Total power
5,5 Kw
Machine weight
2020 Kg
Machine dimensions
Height: 250 cm
Width: 200 cm
Length: 780 cm
Capacity/hour
120 – 160 M2
Resistance value of wire mesh
450 – 500 Nw/mm2
Pattern number(Optional)
3 types
Specifications
Width and length dimensions are entered via touch screen. At the end of the work, the machine stops and gives alarm.
In case of wire intertwining, there are 3 different stop systems.
With the electronic cycle adjustment button, it works at the required speed.
It is adjusted easily with the manual, semi-manual and automatic options.
Double sided twist can be added.
Minimum weaving width is 20 cm.
A system developed for changing the pattern practically and using it easily.
Electric power 380V.
Ability to work nonstop for 24 hour.
Thanks to internet connection, ability of remote access, updating and trouble shooting.
It has double-entry system.
GUARANTEE: (3) years excluding user errors.
Note: As the equipment necessary for the machine use, a 200 lt /8 bar air compressor is needed.